Distributors

Dermaglo

What is different about DERMAGLO COLOUR?
Well they are the same colours that have been used by tattooists for over the last forty years. The only difference is the way in which we have processed the colour. It has been micro-dispersed to make it much easier to use. All our colours work with practically no effort whatsoever and they contain no known harmful substances.
Because they work much easier, we find they heal faster than conventional colour with less scabbing which results in less scarring and the skin retaining more pigment and in our opinion, the tattoo heals fast and is a far sharper and brighter image.
Visit - www.tattooingsupplies.co.uk
---

Good Luck Suppies

The first step on the path of growth in the tattoo is to buy professional tattoo equipment. It is important not to be afraid to experiment : try to work different materials , learn new techniques of tattooing . Our store offers a wide range of professional equipment for beginners and experienced tattoo artists .
Good Luck Tattoo Supply arose from the tattoo studio, where our expert staff with great experience, who love their work . We deal with professional artists from around the world , and based on our general experience , choose the best for you. Therefore, our store does not sell Chinese equipment and Chinese counterparts. We respect our customers and wish that quality tattoo equipment helped to develop in the field of tattoos.
Visit - www.goodlucksupplies.com
---
Eikon

Eikon Device Inc. provides the service, information and products that a professional tattoo artist needs to make their job more efficient, risk-free and profitable.
With the support of our customers, Eikon Device has grown from a company that was formed to research and develop tattoo needles, to a company that examines a broad range of technical issues, and distributes information and tattoo supplies to a rapidly changing and competitive trade.
Visit - www.eikondevice.com
---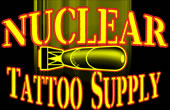 Nuclear Tattoo Supply

Whoever you are, and wherever you are, www.nucleartattoo.com offers the same price to all: the lowest possible. Whether you're a wholesaler looking to increase revenues, a retailer who refuses to pay the high prices in your country, or a shopper looking to get hold of the latest products, www.nucleartattoo.com provides light-speed service and wholesale prices. We buy direct from an ever expanding network of Nuclear Tattoo wholesale manufacturers so we can keep costs low while maintaining the highest of standards.
Visit - www.nucleartattoo.com
---

Protat Tattoo Supplies

As a specialist wholesaler, we can offer professional artists and studios an extensive range of quality products at extremely competitive prices.
As an added bonus, we have also embarked on an industry first marketing partnership with Protat Aftercare, enabling us to offer you unbeatable discounts on certain products, including Alla Prima Ink, Dermaglo Ink, Eternal Ink, FireFly UV Blacklight Ink, Fusion Ink, Futura Ink, Henna Body Ink, Intenze Ink, Kuro Sumi Ink, Makkuro Sumi Ink, Millennium Ink, One Black Ink, Panthera Ink, Silverback Ink, Starbrite Ink, Sunskin Ink, Talens Black Ink and Universal Ultra Black Ink.
Visit - www.protatsupplies.com.au
---

Deluxe Tattoo Supplies
DELUXE TATTOO SUPPLIES is an emporium for all discerning tattooers' needs. From exclusive machines to the highest quality supplies we have it all. Started by Dante Dimassa of Frith Street Tattoo, and going strong for over 8 years, Deluxe Tattoo Supply is proud to be the exclusive UK & European distributor for machines from Tim Hendricks (of Miami Ink fame), Mike Drexler, Seth Ciferri, Shagbuilt, Scott Sylvia and Incognito Irons. We also carry the full range of Dermaglo Inks and Tattoo Pens and refills.
Visit - www.deluxetattoosupplies.com
---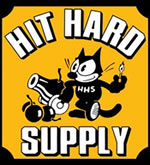 Hard Hit Supply
Hit Hard distributes the colors of Dermaglo UK, the Workhorse Irons and Rotary Works tattoo machines. We do not sell to the public, the prerequisite to buy is to work in a tattoo studio.
Visit - www.hithardsupply.com